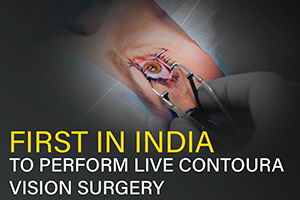 When glasses or contact lenses become a trouble in your life, LASIK surgery offers an alternative that can give you a clear vision again. The innovative technology treats the most common types of refractive errors that you may know as nearsightedness (myopia), farsightedness (hyperopia) and astigmatism. Changes in the structure of your eye that alter your vision may relate to age or to coping with the challenges that result from the way that you use your eyes. LASIK surgery offers a highly successful approach to permanently improving your vision without ever having to use glasses or contact lenses ever again.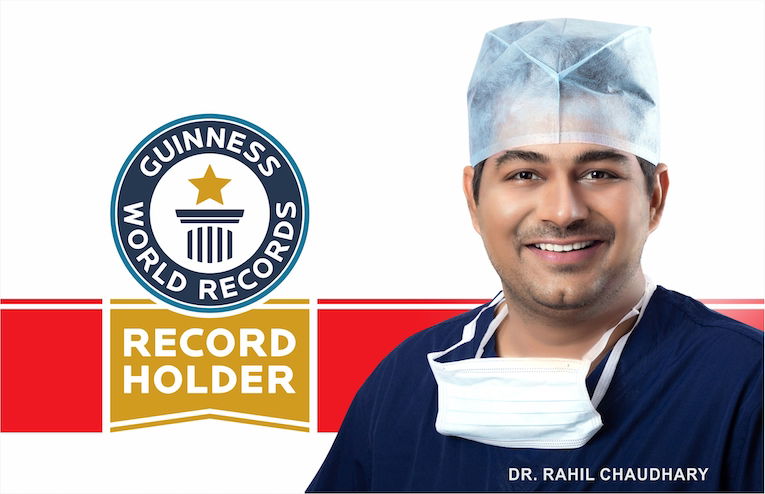 GUINNESS WORLD RECORD HOLDER
& 4 Times INDIAN RECORD HOLDER
250 Contoura Vision Lasik Patients in one day (Maximum in the world).
Maximum Contoura Lasik Surgeries done in India.
Maximum ICL Specs Removal Procedures done in India.
Maximum AI Laser Cataract Surgeries done in India.
Fastest to perform Lasik Laser Surgery in India (1 min 21 sec).
Get in touch with us to know how Lasik Surgery can help you get rid of glasses.
Watch, How A Laser Specs Removal Surgery is Performed?
What Refractive Problems Does LASIK Laser Eye Surgery Correct?
You may have used contact lenses or glasses to help you cope with the inconvenience of not seeing well, and perhaps now you are considering LASIK procedure as a superior way to improve your vision. Following are the refractive problems that a LASIK surgery will help you correct:
Myopia
The medical term for nearsightedness is "myopia", a condition that allows you to see an object only when it is close to you. The blurry appearance of distant objects makes them difficult to identify. If you have myopic eyes, the long length of your eyeball from front to back or deviations in the shape of your eye structures can make your vision inadequate.
The symptoms that you may experience with myopia include the ability to see words on a computer screen or in a book but not a movie or a TV program. The strain of trying to see distant objects can produce eyestrain and headaches. You may wonder why your eyeball is too long, and researchers can only suggest some possible causes.
In some patients, heredity is a factor. Other influences on your eye structure may include your age, ethnicity, gender or even how you use your eyes. Extended periods in the sun may produce an effect, and the time that you spend doing close-up work may affect it as well. The occurrence of myopia among teenagers in India is about 13 percent, and scientists note that the use of 300 million smartphones may have an impact on the statistics. The occurrence of myopia among teenagers in India is about 13 percent, and scientists note that the use of 300 million smartphones may have an impact on the statistics.
Hyperopia
Farsightedness or hyperopia makes distant objects easier for you to see than those that are close to you. Symptoms may not attract your attention when you are young, but they may eventually create blurry vision when you look at objects that are both near and far away.
Some indications that you are farsighted include eyestrain, headaches, squinting and blurry vision when you look at something that is close to you. The purpose of refractive surgery is to reshape your cornea to improve your vision permanently.
Hyperopia occurs when eyeballs are too short or when the lens or the cornea has an abnormal shape. It can affect children as well as adults, and it may occur as an inherited condition. The frequency of occurrence of hyperopia in India and around the world is less than that for myopia.
Astigmatism
A common form or refractive error, astigmatism prevents the eye from focusing light in a particular axis on the retina. It occurs when light bends differently from normal as it goes through the eyeball because of the oval shape of the cornea. Children and adults may experience astigmatism, often without noticing it. Signs of the problem include squinting and eyestrain, blurry vision at any distance, headaches and difficulty in night driving.
The occurrence of astigmatism is so common that you may have some form of it that has existed since birth. It tends to follow hereditary lines, and it may accompany myopia, hyperopia or both types of refractive errors. To understand how the shape of the cornea with astigmatism differs from a normal one that is perfectly round, compare the shape of your rugby ball to that of volleyball.
Types of LASIK Eye Surgeries
Bladeless Laser Procedures
In the Blade-Less technique, there are no blades working on the eye. The whole procedure is done by the use of one or a combination of two lasers; Femto Laser and Excimer Laser. The precision of Femto Laser is to the levels of 5 microns which means that if a human hair is 60 microns, a Femto laser can cut 6 layers in that hair and that is impossible with a blade. Therefore, Bladeless technique gives greater precision, better quality of vision and more safety.
PREMIUM
CONTOURA VISION
(FEMTO LASER + EXCIMER LASER + TOPOLYSER)
Sharpest Vision
Specs Power Correction + Apheric Treatment + Corneal Imperfections Removal
Fast Visual Recovery (WOW Effect)
Computerized tracking during Laser delivery with Fastest Tracker
BLADELESS LASIK
(FEMTO LASER + EXCIMER LASER)
Good Vision
Specs Power Correction + Apheric Treatment


Fast Visual Recovery (WOW Effect)
Computerized tracking during a Laser delivery


Normal Vision
Only Specs Power Correction (Lenticule Removal)


Slow Visual Recovery in 2-3 days (No WOW Effect)
Manual Tracking



Blade LASIK Procedures
In Blade procedures, a special blade called Microkeratome is used to make the corneal flap and then Excimer Laser is used to correct the spectacle power. Modern microkeratomes are able to create flap almost similar to the ones created by Femto Lasers.
SBK LASIK WITH CUSTOM Q
US-FDA APPROVED
Treatment customized to individual eyes, better visual outcomes





A thin flap is created which enhances safety of procedure by saving more tissue and providing better strength to cornea
SBK (THIN FLAP) LASIK
US-FDA APPROVED
A Thin Flap is created which enhances safety of procedure by saving more tissue and providing better strength to cornea


ASPHERIC LASIK
US-FDA APPROVED
The treated and non treated areas are blended with each other with Aspheric treatment resulting is reduced Halo's and Glare
STANDARD LASIK
US-FDA APPROVED
One might experience some Halo's and Glare during night time





Surface Laser Procedures
Surface laser procedures are designed for people who are otherwise not suitable for regular LASIK procedures, such as those with thin corneas etc.
EPI CONTOURA / STREAM LIGHT
Thin Cornea
Bladeless
Flapless
Touchless
Choose Your Laser Procedure
| POWER OF GLASSES | CHOICE OF PROCEDURE |
| --- | --- |
| -1 to -8 | All Laser Procedures |
| -8 to -18 | ICL |
| +1 to +5 | Contoura Vision/Lasik |
| +5 to +10 | ICL or RLE |
Understanding the Need for Refractive Correction
Your ability to see depends on the way that your eyes bend (refract) light. A refractive error occurs when they do not bend it perfectly, preventing the eye from focusing light correctly. Common refractive errors can be corrected with glasses and contact lenses temporarily but a surgery improves them permanently.
Rays of light can bend when they pass through water or a cornea such as the clear front surface of your eye. An abnormally shaped cornea bends the light imperfectly leading to a refractive error. Anatomical features affect the ability of your eyes to refract light and focus properly. Below are the factors that can cause refractive errors:
Eye Length: While it may not seem to you that the shape of your eye is too long or too short, either condition can affect your vision. You may have nearsightedness if it is too long or farsightedness if it is too short.
Curvature of the Cornea: The lens on the front of your eye needs to maintain an entirely spherical shape to refract a proper image. Refractions from irregular cornea shapes can produce astigmatism.
Curvature of the Lens: When the curve of the lens conforms to the shape of your cornea and the eye length, there is no refractive error. However, a lens that is too flat causes farsightedness, and a curve that is too steep may produce nearsightedness types of problems.
LASIK eye surgery provides a path to clear vision at any age. You can achieve freedom from glasses, contact lenses and endless prescriptions with a procedure that permanently improves the vision.
LASIK Eye Surgery Cost in Delhi
Any surgical procedure that you elect can occur only after a careful evaluation of your eye and the type of refractive error that presently obscures your vision. The exact price is determined after a thorough examination of both the eyes and understanding your health history.
The complexity of your refractive error can affect the cost of your surgery, but you may expect to pay in the range of Rs 85,000 to 1,00,000 (approx.) for both eyes to achieve the most positive outcomes.
Choosing the Best LASIK Surgeon in Delhi
With more than 30 years of experience in ophthalmology and expertise as an outstanding physician, Dr. Chaudhary leads a team of finest eye surgeons in Delhi. His reputation as a leading refractive eye surgeon places him at the forefront of pioneering efforts in innovative eye care. His expertise in eye surgery has won him widespread recognition and various accolades for outstanding vision correction.
His training at the Gimbel Eye Centre in Canada in 1995, the site of the first Canadian LASIK surgery for vision correction, set the standard for the leadership that he continues to provide. He was among Delhi's first physicians to adopt LASIK as a superior treatment for refractive errors. Expertise in advancing ICL and stitch-less cataract surgery techniques has brought prominence to Dr. Chaudhary's miraculous skills in addition to his extraordinary achievements in LASIK for refractive errors.
By conducting a live surgical demonstration on television, he shared his in-depth knowledge with more than 3000 vision specialists around the world.
Our LASIK/Specs Removal Specialists
Selecting the Best Hospital for Laser Eye Surgery
Eye7 Chaudhary Eye Centre's team of 40 highly trained surgeons in India, led by Dr. Sanjay Chaudhary, honours a commitment to providing optimal eyesight for patients through the highest quality of care. Recognized by patients and the medical field for our commitment to eye care, our team has performed more than 2,00,000 successful procedures at centres in Delhi.
We have also been ranked amongst the best eye hospitals in Delhi for LASIK eye surgery and have achieved various awards and recognition for the same.
Use of Latest Technology for Surgical Procedures
The latest technologies at Eye7 Chaudhary Eye Centre make the institution one of the few in Delhi to offer Contoura Vision refractive suite for specs removal and the femtosecond laser FS 200 as well as the EX500 laser for bladeless LASIK surgery. The eye surgeons offer you the highest levels of expertise that provides the confidence and assurance that you deserve. By using the latest technology and the best-equipped facilities, the surgeons can perform even the complex eye surgeries. Our entire team of outstanding eye surgeons devotes its practices to providing the quality of vision that enriches your life and gives you the peace of mind.
Attracting Patients Worldwide
The reputation of Eye7 Chaudhary Eye Centre for its state-of-the-art facilities, infrastructure, the most experienced surgeons and a record of outstanding performance makes the chain a highly respected entity around the world. As the word for the quality of procedures and medical expertise in India spreads internationally, the country is achieving recognition as a prominent hub of medical tourism. The same expert level of health care that patients receive in the United States, in the United Kingdom and in other developed nations exists in India at a considerably lower price now.
With the benefit of more than 30 years of experience, Eye7 Chaudhary Eye Centre offers you, as an international patient, a complete service that welcomes you to India with a pickup at the airport and arrangements for your accommodations and local travel to enhance the comfort of choosing your medical care in India. Our four locations in Delhi offer convenience for your friends or relatives to accompany you on doctor visits while enjoying the charm and cuisine of one of the world's greatest cities.
Latest News in Specs Removal
FAQs
LASIK procedures are very safe. These procedures are also US -FDA approved certification, which means they have been given safety clearance for Human Eyes. However, like any other surgical procedure it can have some complications which are extremely rare if a proper screening check is done prior to the procedure. Some patients might experience mild dryness in eyes which usually relieved by lubricating drops and disappears over time. Some may also experience temporary halos during night time which also reduces with time. Immediately after LASIK one might experience mild heaviness and blurring of vision. These are due to the effects of numbing eye drops used during the procedure. All these are rare and can be easily managed by your doctor. Nobody, in our surgical experience, has ever lost sight due to this procedure.
98% people are usually found fit for LASIK. If, however you are not suitable for LASIK, your doctor may suggest you alternative procedures for vision correction such as ICL, Advanced Surface Ablation etc.
No Laser Vision Correction procedure i.e. Contoura Vision, LASIK, SMILE (Small Incision Lenticule Extraction) is completely flapless. The only procedure which is 100% flapless is ICL, where a lens is inserted in the eye.
DAY 1 – PRE – OPERATIVE CHECK UP (LASIK SCREENING)
LASIK is not right for everyone. To access your suitability for LASIK, a detailed evaluation has to be done. This is known as "LASIK Screening". It involves a series of investigative procedures such as pachymetry, refraction, topography, dry eye testing, cornea scanning, retina screening and a doctor's consultation. These procedures take around 2 hours. If you are using contact lenses, it is best to remove those three days before the procedure.
DAY 2 – LASIK PROCEDURE
This procedure is done under local numbing eye drops only. No injections are used. The LASIK treatment time usually takes around 20 seconds per eye, and the whole procedure takes around 10 minutes per eye. You may leave the hospital 15 minutes after the LASIK procedure is complete.
DAY 3 – FOLLOW UP
A follow up is done next day to evaluate results.
Preparations before coming for LASIK
Put the anti-biotic eye drops in both the eyes as recommended by your eye doctor, 6 times a day, one day before the procedure.
Do not use perfumes, powder, makeup on eyes and face on the day of LASIK.
It is preferable to stop using contact lens 1 week before surgery. A small relaxation is permissible in consultation with your doctor
Wash your hair on the day of LASIK so that you don't feel the urge to wash them for next 2-3 days.
Take a normal light meal before coming for LASIK.
On reaching the LASIK centre
A final re-check on your vision will be done by an optometrist
You would be asked to sign a consent form
Just before the procedure, an instruction card will be given to you. Read the instructions carefully
A LASIK executive will explain the steps of the procedure to you
During LASIK
LASIK is done on both eyes in the same sitting
It takes about 15 minutes to do LASIK on both the eyes
The actual laser time is about 10 seconds per eye
If you are undergoing a bladeless LASIK or Contoura Vision, you need to go through two laser machines, a Femto laser and an Excimer laser, however, if you are undergoing any other LASIK type, you need to go through only an Excimer laser
Under the Excimer laser, you are to fix your sight to a green blinking light in the machine
Numbing eye drops will be instilled in your eyes
The procedure is pain free
There are no injections used
No bandage is used on the eyes
The procedure doesn't cause any pain. There might be a little pressure during the whole process. After the procedure, for the next three to four hours, there can be some discomfort but that is easily taken care of by simple medicines. One should contact their ophthalmologist in case there is any pain afterwards.
Do not touch your eyes with fingers. Mop tears with soft tissue paper. Do not use handkerchief
Keep your eyes closed as much as possible after laser treatment on the laser day.
Eye drops to be started on the laser day. Pull lower lid and place one or two drops on the eye in the gap between the lid and the eyeball
Wear dark glasses continuously throughout the day for the first 3 days. On the first three nights, use protective eye shields provided to you by the LASIK centre. From 4th day onwards, use dark glasses only when outdoors up to 15th day. The purpose of dark glasses is to prevent your hands from rubbing the eyes. It also serves as a small protection against dust. Exposure to sunlight or room light is not harmful to the eyes.
Stay in clean environment- Avoid kitchen and smoke for 1 week.
Mobile phones may be used from the next day
Computer use, watching TV, reading etc. can be started from the 2nd day in moderation. There may be strain on eyes initially which is normal.
Take a bath neck down for 1 week. During this period, clean your eyelids lightly with boiled cotton once in the morning to remove deposits from the lid margin, taking care not to touch the black portion (cornea) of the eye. Wipe face lightly with a clean towel without rubbing your eyes.
From 2nd week onwards, take a normal bath from head downwards with your eyes closed as a precaution. A little water entering your eyes now is a very low risk.
After 2 weeks, you can return to normal bathing
Light activities can be done the very next day. Do not do heavy exercises for 7 days. Sports activities can be done after 1 month.
You can have your normal food after laser treatment.
Avoid car driving for 2 days, and driving a bike for 2 weeks.
Do not splash water into eyes for 2 weeks. Splashing water into the eyes as a habit is best avoided as it washes away all the natural oils of the eye, inducing dry eyes. Splashing to wash away some dust particle is acceptable
Smoking and drinking to be avoided for two weeks.
Do not use any eye make up for 2weeks. Threading of eyebrows may be done after 2 weeks taking care to avoid too much pressure on the eye.
Facial massage should be avoided on the eye area for 3 months.
Avoid vigorously rubbing your eyes for 3 months.
Avoid swimming, water diving for 3 months.
Cosmetic contact lenses can be used after 3 months.
The laser procedure itself does not hurt. A slight pressure may be felt during the procedure. There is a possibility of some degree of discomfort after the procedure for 3 to 4 hours, which is easily controlled by medication. If discomfort persists, you should contact your eye doctor.
Most of the routine work can be done after 7 days. Jobs that are more physically demanding and involve exposure to liquids or dust might require a more graduated return to full activities, but are best discussed with your surgeon.
97% of the people will be totally free from their spectacles. 3% will have mild variation from their zero targeted correction due to varying healing patterns in different individuals, but will have their dependency reduced on spectacles. After 3 to 6 months, a laser enhancement can be attempted to correct these individuals further. People over the age of 45, who opt for distance vision correction, may need reading glasses.
Usually a patient is on medicated eye drops for 4 weeks and has to use lubricating eye drops for at-least three months
If the need arises, yes they can be used after speaking with your doctor.
Eye makeup can usually be used after two week of treatment after consulting your doctor.
When you plan to undergo a cataract surgery later in life, one should inform the doctor about any previous procedures so that the treatment plan can be modified accordingly.
The effects of LASIK on the cornea are permanent. Sometimes, internal changes within an eye may come with age and these may have some effect on the overall visual status. For example, myopia may progress even in later years, or a person may require reading glasses with normal ageing process usually seen after 40 years of age.
Infection is a serious complication and could lead to deterioration of the cornea. Infection is usually rare and can be well controlled with medications with little or no loss of quality of vision. At our Centre, we have had no case of infection till date.
The medical community can only speak of the future by accessing the data from the surgeries performed within the last 20 years. The data reveals a very positive healing response of the eye giving doctors no reason to be concerned about effects beyond 30 years.
Yes, many in India as well in several other countries. We have also operated on several doctors including eye specialists.
Follow ups after LASIK are usually done the next day, next week and then monthly for 2 months. However these are best suggested by your doctor.
No. Please understand that LASIK is known to correct refractive errors. In case of lazy eye, no refractive surgery restores vision.